December 6th, 2014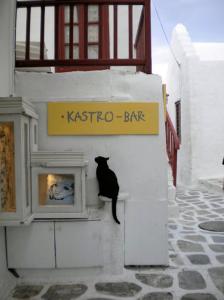 I love photos that tell a story. I don't know about a "thousand words" but I'm surprised by how many photos I see here on FAA and other sites that have no description -- not a word. Perhaps they're saying the photo speaks for itself and I agree that should be the case. But sometimes, I want to know more about the photo and want to see a few words at least. I may be in the minority because I'm a playwright and I love long stories but I actually love the photos that have the "historical documentation" of the place or the flower or the architecture. It shows that the photographer really took some time, not only to take the photo but to do some research. I'm talking to myself here because although I always write at least a sentence or two and the location, I always plan to go back later and "elaborate." Take for instance, my photo shown here: A curious cat in Mykonos. I have had the pleasure of visiting Mykonos, Greece three times (and I want to go back very soon). It's a very beautiful, magical place and during the travel "season" - the cobblestone streets are usually so full of tourists that you can barely walk, much less take a photo. But I did visit one time in the "off season" and the streets were surprisingly vacant. So I turned down one street near the Kastro Bar, and I saw a black cat jump up on a ledge near the sign, with his black tail hanging down from the ledge in a perfect curl and I raised my camera and walked closer. I was sure that the cat would run away as soon as approached. But he was focused - he did not move. And I got the shot I wanted. The cat looks like he's looking at the poster in the display case but the "real story" is that he was hunting a mouse (!) that had disappeared behind the ledge. I have sold this photo several times over, mostly because frequent travelers want to remember all the fun times they had at the Kastro Bar in Mykonos, Greece. They think the cat is cute, they remember there are lots of cats there and that they want to go back for a visit. So now that I think about it, maybe the story behind the photo doesn't matter after all!

November 23rd, 2014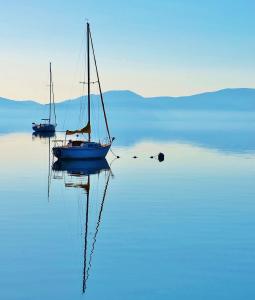 Question I'm often asked, "Why should I buy a photo when I can take my own?"

When I first started promoting my own photography because people asked me where they could buy my photos, I was very encouraged by the positive response. It was the "honeymoon" period, I guess, very shortly there after – I heard the line, "Why should I buy a photo from you when I can take one of my own? Or "Taking a photo is easy now with my point and shoot" Or (even worse) "I can take a photo like that on my cell phone camera!" OK, I understand that cell phones are equipped with some very good camera options now (although they are very expensive options: iphone 6 plus - $300 - $800 or Samsung Galaxy S5 - $200 - $600). Still, I firmly believe a professional photo is going to be much better than a cell phone shot. And here are three reasons, (the three "C's") in my humble opinion.
Clarity
Composition
Components
1) Clarity: OK, I will admit the new cell phones do have high resolution photos, but most are still "short" on the megapixels – (iphone has 6 megapixels, Samsung is better 13 – 16 megapixels) and all are on "autofocus" so the photos will be colorful and clear, but will they be "sharp?" Autofocus in a photographers' world is like saying frozen pizza is as good as (insert your favorite take-out pizza here) Round Table. Sure it may be good but is it good enough? Another admission here – I used to think the photos I took with my Nikon point and shoot were "sharp" until I bought my Nikon D7000!
2) Composition: You can study art and photography composition for four years or more at any university – so why would you think you can just aim your cell phone and get it right every time? Yes, I realize you even get a little box in the cell phone camera viewer to help you with the point of focus in the middle of your shot. I rest my case.
3) Components: By components I mean this, so you have a great photo in your cell phone. Now what? OK, you download it to your computer (without any editing software - it's already perfect, right?) And you send it off to a box store that has a photo department like Walmart, for instance. And they send you a 4 x 6 print in the mail. First check the color. What the heck happened? The colors are completely off (yes, I have experienced this with Walmart). What if you want a larger photo? Or an odd size? What if you want a mat to set off the correct colors and a frame or a stretched canvas to hang on the wall. Or maybe you even want a cell phone case to protect the great camera you have in your iphone 6 plus… That is exactly why you want to purchase your photo from a great website like FineArtAmerica.

Again, I rest my cell phone case. Pun intended.